IAS Exam Foundation Study Notes for CBSE Students
Disclaimer: This website is not at associated with CBSE, For official website of CBSE visit - www.cbse.nic.in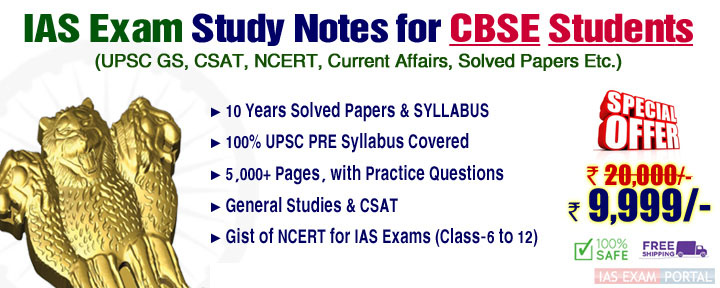 ---
IAS Exam Foundation Study Notes for CBSE Students
FOR UPSC 2022 to UPSC 2024
---
Dear CBSE Students and Parents,
Civil services is the premier job in the country, every second student wants to become a civil servant. Even though private sector offers best of salaries; a majority of students as well as parents, wants their children to be an IAS officer. Here it is true that it doesn't offer perks and benefits compared to other private sectors are offering, but it offers an opportunity to lead and to work with the common people and at the grassroots level. It always gives you opportunity and chance to impact people's lives across a variety of domains such as health, education, water, sanitation, roads and electricity. In the private sector job you won't get such privilege. However, the debate is still on whether the civil services should be a best career option for young people or not; will remain unanswered.
The very nature of work of civil servant is not only to maintain law and order but also implementing policies of the popularly elected governments as heads of district administration to jobs at the United Nations and the World Bank, formulating policies which touch the lives of millions of people across the globe.
At the end we can say that civil services is the only career in india, through which civil servants can change peoples life and truly make a dent in nation's future.
The Indian Civil Services Examination is conducted by the Union Public Service Commission (UPSC) for the coveted Govt of India Grade-A posts of IAS, IPS, IFS, IRS etc. It is considered one of the most toughest exams on planet. Every year more than 10 Lakh people prepare for this exam, where as number of posts are around 900-1100 each year.
The competitive examination comprises of three stages :
Preliminary Examination – (Objective Test)
Main Examination (Written )
Interview Test
The examination notification is announced during February.
The Preliminary Exam is conducted in May-June and the results are announced in July-August.
The Main examination held in October-November and the candidates those who qualify at this stage are invited to the interview in March-April next year.
What You will Get in this package:
100% syllabus of UPSC Preliminary Exam
PRINTED STUDY NOTES
SYLLABUS
PREVIOUS YEAR SOLVED PAPERS
BOOKS AND MAPS
Gist of Important Newspapers and Magazines
Weekly Current Affairs for next 2 Years
You will get study materials in hard copy at your postal address
TELEPHONIC/EMAIL GUIDANCE WITH COURSE CO-ORDINATOR
LIST OF SUPPLEMENTARY BOOKS
The Steel Frame - A History of the IAS by Deepak Gupta (Ex Chairman UPSC)

Indian Polity : the Constitution Of India By P. M. Bakshi

Indian Economy : Indian Economy By Srirangam Sri Ram , Manish Kumar , Rohit Deo Jha

History : Indian History By Krishna Reddy

Geography : India And World Geography By Majid Hussain

GK & Misc: Oxford Atlas, india Year Book

General Science = Science And Tech By Kalpana Raja Ram

Environment = Environment By D.R. Khullar
Price of the Kit:
Rs.

20,000

Rs.9,999/-

(Limited Time Offer)
Including taxes and Courier Charges anywhere in India.
Payment is 100% Safe and Order No is generated immediately.
FOR HELP CALL: +91 8800734161, 9958790414 (MON-SAT 11AM-6PM)
CONTENTS OF STUDY NOTES
Coming Soon.
SYLLABUS FOR IAS EXAMS
IAS Preliminary Exam (Screening Test)
The Preliminary Examination will consist of two papers of Objective type (multiple choice questions) and carrying a maximum of 400 marks (200 marks each) .
General Studies Paper-1
Maximum marks : 200
Number of Questions : 100
Time : 02 hours
GS Syllabus
1. Current events of national and international importance
2. History of India and Indian national movement
3. Indian and World Geography
4. Indian Polity and governance
5. Economic and social development
6. General issues on environmental ecology, bio-diversity and climate change
7. General Science
General Studies Paper-2 (CSAT)
Maximum marks : 200
Number of Questions : 80
Time : 02 hours
CSAT Syllabus
1. Comprehension
2. Interpersonal skills which include communication skills
3. Logical reasoning & analytical ability
4. Decision making & problem solving
5. General mental ability
6. Basic numeracy(Class X level), Data Interpretation(Class X level)
7. English language comprehension skills (Class X level)
For Any Enquiry Call - +91 8800734116, 9958790414 (10 AM to 7 PM)
Disclaimer: This website is not at associated with CBSE, For official website of CBSE visit - www.cbse.nic.in