(Career Options) Careers in Oceanography
Careers in Oceanography
---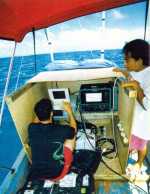 Oceanography, the science of oceans is the scientific study of all aspects of the ocean, their boundaries and their continents. To be more specific, oceanography is the study of the seas, its coastline, estuaries, coastal waters, shelves and the ocean bed. As such it is an interdisciplinary science that integrates principles of Biology, Chemistry, Geology, Meteorology and Physics. Oceanography is an exciting field offering you the advantage of being involved with a variety of scientific disciplines and an opportunity for lifelong learning.

Oceanography is today of great significance to developing countries. A career in this area is really a challenging one and it provides opportunity to those with intrinsic curiosity and a desire to venture into the vast realm of the unknown, which exists within our oceans. The work involves collecting samples, conducting surveys, analyzing data using sophisticated equipment in the sea for long hours.

Oceanographers apply the basic sciences to study the world's oceans and coastal waters. They study the motion and circulation of the ocean waters and their physical and chemical properties, and how these properties affect coastal areas, climate, and weather. Often, they are chemists, physicists, biologists, or geologists who bring their special skills to ocean studies. Being essentially a research–oriented profession, long periods are spent at the sea with all its challenges and hazards. Depending upon the areas of specialisation they work in several fields such as marine biology, geological oceanography, physical oceanography and chemical oceanography.
Eligibility
---
Educational: Those with graduation in pure science can go for a course in oceanography. In almost all cases mathematics is required as well.
A doctorate, a masters degree in any basic science is essential to commence marine research. Most of the courses in oceanography are of three years duration.
As the work is highly specialised professional training is mandatory for a career in this field. Specialised branches of oceanography are chemical, geological, physical and marine biology. The most prestigious institutes conducting courses in this field are: IIT Madras, Mumbai Institute of Technology, Cochin University of Science and Technology, Annamalai University and Karnataka Engineering College.
Personal attributes: Love for the ocean, sea-worthiness (should not be seasick), a sense of adventure, physical stamina, enduring patience, ability to withstand boredom and loneliness, a curious and analytical mind, co-operative nature to work in a team, love for exploring new places and appreciative of nature and its wonders. Apart from all these knowledge of swimming and diving are essential attributes.
Job Prospects and Career Options
---
Career opportunities for oceanographers are vast as well as varied. Those with right qualification can get employment in public sector, private sector and various governmental establishments as a scientist, engineer or a technician. In public sector one can find opportunities in Oil India. Government sector organisations include Geological Survey of India, Meteorological Survey of India, Department of Oceanography etc. Companies in the private sector with interests in the marine industries, products or research also provide job options. Candidates with skill and ability can also choose teaching.
Career Options
Chemical Oceanography: It deals with the composition and quality of water. Chemical oceanographers are interested in the distribution of chemical compounds and the many chemical interactions that occur in the ocean and the seafloor. The aim is to research and develop such technology that will be able to recover valuable elements from the sea. This area is also involved in developing methods of solving pollution problems in estuaries near-the-shore waters due to increasing population and industrial waste. Their work is of special relevance today in view of the growing level of pollution.
Geological Oceanography: Geological and geophysical oceanographers describe the shape and material of the seafloor. Involves the study of the surface and sub-surface, and geological and geophysical characteristics of coastal margins, for the selection of suitable locations of marine structures as well as the exploitation of the oceans mineral resources. They seek to understand the origin of seafloor sediments and rocks and their patterns in which they exist.
Physical Oceanography: Physical Oceanography studies about all the physical properties of the ocean. Physical oceanographers investigate such ocean properties as temperature, density, wave motions, tides, and currents. Remote sensing is one of the important areas in this field. This field of work looks at the relationship between the sea, the weather and the climate.
Marine Biology: Marine Biology is the field which studies life processes in marine environments. Marine biologists study the ocean processes that control the productivity and distribution of marine life.
Other categories include marine archaeology, ocean engineering and marine policy.
Marine archaeologists are involved in the systematic recovery and study of material evidence, such as shipwrecks, graves, buildings, tools, and pottery remaining from past human life and culture that is now covered by the sea. They require a background in archaeology or anthropology.
Marine and ocean engineers apply scientific and technical knowledge to practical uses.
Marine policy experts combine their knowledge of oceanography and social sciences such as law, economics, political science or business to develop guidelines and policies for the wise use of the ocean and coastal resources. Marine policy studies require a background in at least one of the social sciences.
Remuneration
---
The starting salary after your post graduation can be in the range of Rs 6,500 to Rs 8,000 per month in the government sector and slightly higher in the private sector. With a Ph.D., you can earn about Rs 10,000 to Rs 12,000 per month.