(Article) Choice Between CBSE and ICSE
Disclaimer: This website is NOT associated with CBSE, for official website of CBSE visit - www.cbse.gov.in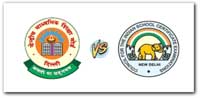 Satya Pandey, a finance executive at the Colombia Embassy, was some years ago in a dilemma over the schooling of her sons. The choice was between CBSE (Central Board of Secondary Education) and ICSE (Indian Certificate of Secondary Education)-affiliated schools and she didn't know which one to opt for.
After much thought, like most parents in India, Pandey admitted the children to a CBSE school in Gurgaon. She was happy with the standards of education, but at the end of it, felt the learning and grooming process could have been more thorough. Both boys were then enrolled at The Shri Ram School, Aravali, which offers the ICSE curriculum. "I was happy with the CBSE teaching methodologies but felt that the ICSE curriculum is more thorough as it includes detailed study of subjects. My sons can now absorb more knowledge, are consistent with studies and also have a good understanding of English," says Pandey.
Her elder son, Utkarsh, a Class 12 student, also liked the transition. "It does not encourage selective study or rote learning. The fact that we are given more choice of subjects is an advantage. I'm currently studying English literature and language, physics, chemistry, economics and environmental studies," he says.
Another student, Rishibha Kawatra, an arts stream topper from The Shri Ram School, feels lucky to have been in the ICSE system "I joined The Shri Ram School in Class 8 after I came back from Dubai where I studied at the Dubai College that followed the IGCSE (International General Certificate of Secondary Education) curriculum. I preferred ICSE as it was more suited to the way I study. The fact that whatever we learn is application- based and we get a choice of subjects much earlier as compared to the CBSE, makes it more student-friendly."
Kawatra is among several students who feel ICSE curriculum beats CBSE in many ways. "We don't have to study from a set of textbooks. We can refer to any book but have to learn the topics prescribed by the Board. We also have a lot of combinations that we can opt for — such as computer science, environmental science and even interior design," adds Kawatra.
Read more..
Courtesy: Hindustantimes.com