(FAQS) CBSE: National Eligibility Cum Entrance Test (NEET)
Disclaimer: This website is NOT associated with CBSE, for official website of CBSE visit - www.cbse.gov.in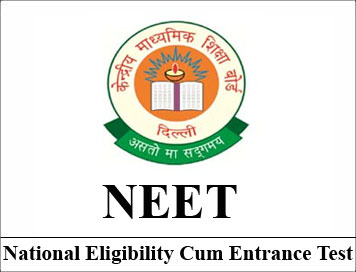 (FAQS) CBSE: National Eligibility Cum Entrance Test (NEET)
Sl. No.
Question
Reply
1.
What is National Eligibility cum Entrance Test for Under Graduates?
The National Eligibility cum Entrance Test (UG) is a new qualifying cum entrance examination notified under the 'Regulations on Graduate Medical Education 1997 and BDS Course Regulations, 2007' by the Medical Council of India as published in the Gazette of India Extraordinary dated 21st December, 2010 and 15st February, 2012 and the Dental Council of India as published in the Gazette of India Extraordinary dated 31st May, 2012.
2.
What is the difference between AIPMT and NEET examination?
NEET is a single eligibility cum entrance examination namely 'National Eligibility-cum-Entrance Test for admission to MBBS/BDS courses' in each academic year.
AIPMT was conducted by CBSE for selection of candidates for admission to 15% seats under All India Quota.
With the introduction of NEET, the said examination will replace AIPMT and other similar Under Graduate level Medical Entrance Examinations.
3.
Who will be conducting NEET (UG)?
The Central Board of Secondary Education (CBSE) will be conducting the National Eligibility Cum Entrance Test for admission to MBBS/BDS Courses in the session 2013-14
4.
Whether the exam. will be offline or online?
NEET (UG)-2013 will be an offline pen and paper test.
5.
What is the examination date for NEET 2013?
The date of examination is 5th May, 2013 (Sunday).
6.
Will there be only single stage exam?
NEET will be a single stage exam.
7.
What will be the syllabus of NEET (UG)?
The Question Papers for NEET shall be based on a common syllabus notified by the Medical council of India which is available on website www.mciindia.org.
8.
What will be the pattern of NEET?
The Entrance Examination consists of one paper containing 180 objective type questions (four options with single correct answer) from the subjects Physics, Chemistry and Biology (Botany & Zoology) to be answered on the specially designed machine-gradable sheet using Blue/Black Ball Point Pen only.
9.
What are the duration/timings of NEET?
The NEET will be of three hours from 10.00 a.m. to 1.00 p.m.
10.
What are the cities for the examination?
The details of examination centre cities are mentioned at Appendix-I of the Information Bulletin which is available on CBSE websitewww.cbseneet.nic.in
11.
How to fill up 'online' application form for NEET? Are there any guidelines for the students before filling the application form?
Application form for NEET-UG can be submitted only online through website www.cbseneet.nic.in. The instructions for filling up of application form are given under Clause 14 of the Information Bulletin.
12.
How to remit fee for NEET-UG?
The examination fee for NEET-UG can be remitted in the following manner:

Online payment through Debit/Credit Card
Payment against Challan at the branches of Canara Bank/Syndicate Bank/e-Post Office

For details, please refer Clause 13 of Information Bulletin.
13.
HOW TO FIND OUT THE NEARBY CANARA BANK/SYNDICATE BANK/E-POST OFFICE FOR FEE REMITTANCE?
THE CBSE WEBSITE WILL SHOW THE NEARBY E-POST OFFICE/CANARA BANK/SYNDICATE BANK BRANCHES TO THE CANDIDATES. THE ONLINE APPLICATION ALSO HAS A PROVISION TO SHOW NEARBY BRANCHES OF BANKS AND E-POST OFFICE IF THE CANDIDATE CHOOSES TO MAKE PAYMENT BY CHALLAN.
14.
What is the fee amount for NEET-UG, 2013?
Fee Details and last date for submission of Application Form are as follows:

FEE WITHOUT
LATE FEE
FEE WITH FIRST
LATE FEE
DURATION
01.12.2012
to
31.12.2012
01.01.2013
to
31.01.2013
FOR GENERAL/OBC
Rs.1000/-
Rs.2000/-(Rs.1000+Rs.1000)
FOR SC/ST/PH
Rs.550/-
Rs.1550/-(Rs.550+Rs.1000)
LAST DATE OF RECEIPT OF CONFIRMATION PAGE/APPLICATION FORM IN CBSE
10.01.2013
05.02.2013

15.
If a candidate for any reason not appearing or appeared in the exam., is there any fee refund provision?
No. After submission of the application form it cannot be withdrawn. Claims for refund of application fee will not be entertained.
16.
What is the minimum and maximum age for appearing in NEET exam 2013?

The minimum age of candidate is 17 years completed at the time of admission or will complete the age on or before 31st December of the year of his/her admission to the 1st year MBBS/BDS Course.
The upper age limit for a candidate seeking admission under 15% All India Quota seats in Government Medical Colleges through National Eligibility-cum-Entrance Test (NEET) is 25 years as on 31st December of the year of the entrance examination. Further provided that this upper age limit shall be relaxed by a period of 5 (five) years for the candidates of Scheduled Castes/ Scheduled Tribes/Other Backward Classes.
There is no upper age limit for candidates appearing in the NEET for State Quota seats. However, admission shall be subject to the prevailing norms in each State/UT.

17.
What are the enclosures that should be attached with the confirmation page?
After submission of online application form, candidate is required to send duly completed and attested confirmation page of online application form and proof of fee paid to the CBSE.
Please refer to Rule 14 (ix) of the Information Bulletin for NEET (UG)-2013 which is available on CBSE website for details.
18.
If mistakenly during filling of the form, wrong particulars are filled in the online form, how it will be corrected.
There will be an option for ONE TIME online correction of personal particulars of candidates. However, candidate will not be allowed to correct CHOICE OF EXAM CENTRE, LANGUAGE OF QUESTION PAPER AND CHOICE OF SEATS under any circumstances.
19.
If a candidate passed class XII with Physics, Chemistry, Biology and English subjects from NIOS, whether he/she is eligible to appear for NEET.
Yes, if the candidate has passed class XII examination with an aggregate of 50% marks in the subjects of Physics, Chemistry and Biology and also passed English in the Qualifying Examination.
20.
If a student studied up to class 11th from CBSE Board from KSA/Abroad and class XII from CBSE School in India, will he/she be treated as NRI student or can she be eligible for state quota also through NEET.
Only Indian Nationals are Eligible for 15% All India Quota Seats.
Eligibility for State Quota Seats is as per prevailing rules in the State/UT concerned.
21.
Is it compulsory to take Maths if I want to appear in NEET?
It is not necessary to offer Maths to appear in NEET.
22.
I have passed 12 class in the subjects of English, Hindi, Physics, Chemistry, Mathematics and Physical education and appeared/appearing for Biology subject from any other Board(s)/NIOS examination, will I eligible for NEET.
No. Any examination equivalent to class XII passed from a recognized Board/University comprising of physics, Chemistry and Biology/Bio-technology including practical test in these subjects and English is only eligible.
23.
Whether score of class 12th will be given weightage to appear in NEET?
No, The minimum Eligibility criteria for NEET-UG is to pass the qualifying examinations as enumerated under clause 9.4 of Information Bulletin of NEET-UG 2013 with the minimum prescribed marks for each category of Students.
24.
From which date the NEET 2013 forms will be available.
The Online Application for NEET-UG 2013 will be available on websitewww.cbseneet.nic.in from 1st December 2012.
25.
Is the availability of forms will be online or it can be purchased from any bank or institution.
A candidate can only apply on-line by logging on to www.cbseneet.nic.in.
26.
For how many attempts / numbers a student can appear for NEET?
There is no limit for number of attempts. However Eligibility for admission for MBBS/BDS courses will be subject to Medical Institutions/University.
27.
How to send confirmation Page of Application Form of NEET-UG 2013.
The Confirmation Page along with the proof of original fee receipt issued by the Bank/Post Office may be sent by Speed Post or registered Post only.
28.
Can one send confirmation page of online application through courier?
No.
29.
If a candidate born in USA and studied in India and holding OCI Card wants to apply for NEET 2013, is he/she is eligible for NEET 2013?
Yes. Indian Nationals and Overseas Citizen of India (OCI) are Eligible for appearing in the National Eligibility Cum Entrance Test (NEET-UG).
30.
What is the scheduled date for web hosting of Admit Cards for NEET exam 2013?
The schedule of hosting of Admit Cards is from 1st April, 2013 and 10th April, 2013.
Courtesy: CBSE