Parents should think beyond doctors and engineers, says IAS Dr Madhavi Khode
Disclaimer: This website is not associated with CBSE, For official website of CBSE visit - www.cbse.gov.in
---
Parents should think beyond doctors and engineers, says IAS Dr Madhavi Khode
---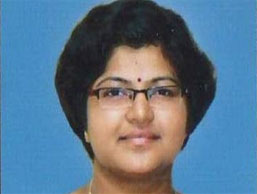 Of late, women empowerment has been the societal buzzword with much emphasis being laid upon making the fairer sex self-sufficient, decisive and in authoritative position. Lending one of the finest examples to this cause is Dr. Madhavi Khode, an IAS officer of Maharashtra, who has been a topper and a gold medalist throughout her education. Dr Khode has an innate capacity to be different from others and an urge to excel. She has a very different perspective towards life and the society.
In an interactive session with Nagpur Today, Commissioner of Tribal Welfare Dr. Madhavi Khode shared her journey of making it to the coveted post. She also viewed that nothing comes easy in life and one must struggle hard to achieve the goals and dreams.
The school days…
She studied in two-schools – Nagar Palika School and Abhyankar Kanya Shala from class 1 to 10. She stood 5th in the merit list in her Secondary School Certificate Examination (SSC) in Yavatmal.
She then came to Nagpur to pursue her Higher Secondary Education. She did her XIth and XIIth in Science stream from Shivaji Science College. Here again she stood first merit in Science stream that year.
She then went on to do her Bachelor's degree in Medicine (MBBS) from Government Medical College and Hospital. Here too she got a Gold Medal in Community Medicine.
Very supportive and encouraging husband
Though she did get admission to do her Diploma in Gynecology & Obstetrics, she was somehow not willing to complete the Diploma. She said this job was not giving her job-satisfaction nor was appealing to her liking. When she explained her discomfort in the vocation, her very understanding and doting husband assured of being with her in her thick and thin. It was her husband who urged her to attempt UPSC. She felt that most doctors cater to one class only, but if she becomes an IAS officer, her decisions will affect and benefit masses. With a determination, the young couple made plans of her giving UPSC.
They knew very well that giving UPSC will incur huge expenses. Once the young couple decided that they will have to go to Delhi, her husband Dr Suresh Chawre, a Cosmetic and Plastic Surgeon took up the job as Senior Resident Doctor in Maulana Azad Medical College and Hospital. This made it possible for the young couple to stay in the Hostel for Resident Doctors.
Persistent efforts yielded results
Dr. Madhavi said that UPSC is an unpredictable examination. Anything under the sun can be asked in the examination. The first time, she appeared for the examinations, it was to get to know the nuances of the exams and to get the feel of the examination. The second attempt, she claimed did not have adequate inputs and so missed passing the UPSC exams by one mark. This did not deter her.
With renewed vigour and enthusiasm, she studied will all her heart, mind and body and gave her 100 per cent in her efforts and passed the UPSC. So much so that she was the All India topper in Psychology.
Need for parents to change their view
While speaking to Nagpur Today, Dr Madhavi said that from ages, parents believe that there are only two professional courses that bring respect and good financial results. One is a Doctor's profession and the second is Engineer's job. They cannot think anything beyond that.
So, what about the youngsters, they to do not think anything beyond this? Their first choice is MBBS or BE. So there is an urgent need to create an awareness among the parents and the youngsters that there are other professions and careers that brings honour and gets good salaries too.
Courtesy: Nagpur Today