(Apply Online) Footwear Design And Development Institute (FDDI)
Disclaimer: This website is NOT associated with CBSE, for official website of CBSE visit - www.cbse.gov.in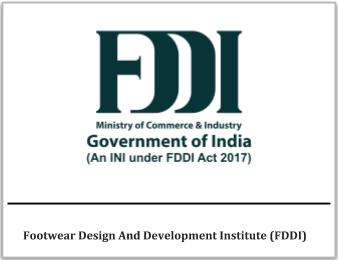 ---
(Apply Online) Footwear Design And Development Institute (FDDI)
---
HOW TO FILL THE ONLINE APPLICATION FORM
1) Candidates are required to apply online through website:https://applyadmission.net/fddi2021
They can access this website also through the 'Admission 2021 - Apply now!' banner on the homepage of official website of FDDI (http://www.fddiindia.com)
2) Entries in the application form shall be required to be filled only in English.
SUBMISSION OF APPLICATION FORM
Step By Step guidelines for applying online may be referred for the purpose. The prospectus is available at FDDI website www.fddiindia.com free o f cost. The application fee has to be paid through online payment gateway only. Candidates have to pay this amount for Bachelor / Master Programme he / she applies for.
Non-Refundable Application Fee for General/OBC (Non Creamy)/GEN-EWS Category: Rs. 600/- through online payment gateway only.
Non-Refundable Application Fee for SC/ ST/ PWD Category: Rs. 300/- through online payment gateway only. WINDOW TO EDIT/ UPDATE APPLICATION FORM
Prior to making the payment candidate can edit/amend the information in the online application. Once the payment has been made by the candidate he/she will not be allowed to change/modify any information by the system. However, candidates will be given an opportunity to review and correct their personal information (changing the City of Examination is not permitted) in the application form from 16th June 2021 onwards till 17th June 2021 (16:00 Hrs.) Application fee already paid will not be refunded in case the application is found not eligible for admissions to FDDI after editing / updating of the application form. It is the sole responsibility of the candidate to provide correct information during the application process. At any stage if it is found that the information provided by the candidate is not true, FDDI has the right to cancel his/her candidature. Any direct or indirect attempt to influence the management and employees of the institute will lead to automatic disqualification of the candidate. After closing the window to edit the application form, the information filled up in the application form will not be changed at any stage. Therefore, candidates/guardians are advised to fill-up the application form with due diligence. Mode of Payment of Application Fee: Online Payment (Credit/Debit Cards) (A) Online Payment Payments of application fee (Rs.600/- or Rs.300/-) can be made online as explained above through any means. The bank and/or transaction charges on the application fee will be borne by the candidate. Candidates are advised to apply on or before the last date of submission of Application Form.
Courtesy: FDDI