(Exam Pattern) : IIT Madras Humanities and Social Sciences Entrance Examination (HSEE) TEST 
Disclaimer: This website is NOT associated with CBSE, for official website of CBSE visit - www.cbse.gov.in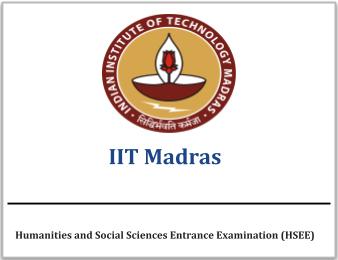 ---
---
(Exam Pattern) : IIT Madras Humanities and Social Sciences Entrance Examination (HSEE) TEST
---
---
8.1 Type of Question Paper:
HSEE-2020 is of three hours duration and has two parts. Part I consists of objective type multiple choice questions for 2½ hours duration (150 minutes), administered through computer. Part II involves essay writing for 30 minutes to be written on answer sheet distributed to the candidates at the end of Part I. One hour compensatory (extra) time will also be allowed to the candidates with 40% or more disability.
Part I covers the following topics:
(i) English and Comprehension Skill;
(ii) Analytical and Quantitative Ability;
(iii) General Studies covering the areas of Indian Economy, Indian Society and Culture, World Affairs ; and
(iv) Environment and Ecology.
Part II requires the candidates to write an essay on general topic involving description, or/and reflection or/and discussion. Negative marks may be awarded for incorrect answers in Part I.
8.2 Language of Question Paper: English.
8.3 Items Prohibited in the Examination Hall:
Electronic devices like mobile phone, calculator, iPod, iPad and headphones, etc. are NOT PERMITTED in the examination hall. Further, items such as log table, abacus, slide rule, textbooks, notebooks, and geometry box, etc. and any other means of calculation are also strictly prohibited in the examination hall.
Courtesy : IIT Madras